Food
    The breakfast buffet will always include mangú, which is a savory puree made with mashed plantains, yautía (taro) or yuca (cassava). Another variation of mangú is 'mazamorra', made with the pumpkin-like squash known in the Dominican Republic as 'auyama'. Many other tropical fruits are eaten at breakfast and other times of the day.  These include papaya, magoes, bananas and kiwis.  In the Dominican Republic they love their bananas. These large, big leaved plants can produce many fruits. They taste better there in Dominican Republic because they are ripened right on the plant and not picked green like the ones shipped to other destinations.
Mangú
    Lunch is normally always  some form of 'La Bandera Dominicana', the Dominican Flag.  Made up of bean stew, white rice and meat, this important staple is a tradition in the culture, and also something that a visitor should try.  In 1492, when Columbus arrived to the island, he brought Spanish cuisine with him. Paella.  Occasionally served for lunch, the most famous Spanish dish, is a common meal you may even see in a restaurant.  Dominican Republic food and meats a distinctive "pre-marinated" flavor. Though Dominicans do raise very nice cattle, beef is not so common because it is very expensive; they tend to export most of it.
'La Bandera Dominicana'
    The evening meal is usually light, and can be a variation on what is eaten at breakfast, a simple sandwich and hot drink, or in the hotter months, simply a glass of natural fruit juice.  On special occasions, Dominican food takes on a festive air.   The locals tend to eat a lot of meat (goat and chicken) as it is less expensive than fish and seafood, but tourists can enjoy great fresh seafood, especially shrimp, marlin, mahi-mahi, rock lobster and Dorado.  Sancocho, a thick stew made with up to seven types of meat and a large array of vegetables and tubers, is the ultimate Dominican party food.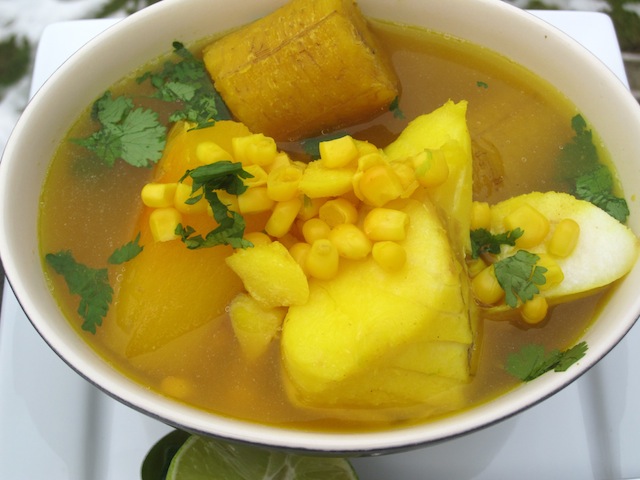 Sancocho
    If you like desserts and sweets try out a mixture of beans, condensed milk and some other sweet and interesting ingredients. Habichuelas con dulce is a traditional dessert served during Easter but can be found the year round if you make your quest in the right places. It's also made into an ice cream that can be bought at certain stores or shops. 
Habichuelas con Dulce
Famous Restaurants
    There are many different famous restaurants and cafe's in the Dominican Republic, but a visitor should go out and try new places.  Here is just one of the most famous restaurants in the Dominican Republic.
Punta Cana: The JellyFish Restaurant
Serving sea food with a touch of Italian flare
You can sit inside or out on the deck
Lovely views of the ocean
$20-35
 The Jellyfish Restaurant
Learn how to make some Dominican Republic food!
 Food">https://vimeo.com/2401629">Food
Links
(Showns in order)
https://www.elcolmadito.com/Arte/MasProductos/food_mangu.jpg 
https://www.bestday.com/_Lib/Images/Bestday/Puerto-Plata-Area-Republica-Dominicana/REST_bandera3.jpg
https://www.mycolombianrecipes.com/wp-content/uploads/2010/01/Sancocho-de-Pescado.jpg
https://storm.cis.fordham.edu/~caquias/habichuelas%20con%20dulce.jpg
https://www.ocean-blue-punta-cana.com/punta-cana-restaurants.html